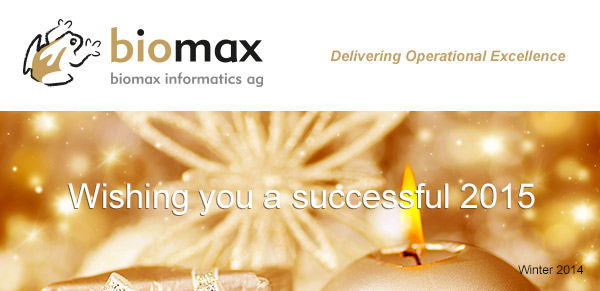 | | | |
| --- | --- | --- |
| | 2014 HIGHLIGHTS AND UPDATES | |


BIOMAX SEQUENCE ANALYSIS TOOL JOINS ILLUMINA'S BASESPACE APPS

| | |
| --- | --- |
| | The PEDANT™ BaseSpace App provides a convenient tool for the comprehensive analysis of bacterial DNA sequences. Using the App, sequence results are placed in context with multiple levels of existing knowledge and the visualization of DNA and protein features is allowed. The PEDANT BaseSpace App provides cloud access to the microbial genome annotation workflows offered by the enterprise Pedant-Pro™ Sequence Analysis Suite, which set the standard for stable, dependable sequence analysis. Read more about the collaboration here. |

THE BIOMAX 2014 SYMPOSIUM: TRANSLATING SYSTEMS MEDICINE INTO PRACTICE

| | |
| --- | --- |
| | Co-hosted with CASyM, the 2014 Biomax symposium brought together public and private representatives from healthcare, clinics, medical research, patient organizations and government in Martinsried, Germany on September 5, for a day of discussing systems medicine in healthcare settings. There were several presentations given which can be viewed here. For a detailed synopsis, read the newsletter dedicated to the symposium here. |

SCIENTIFIC COMPUTER WORLD FEATURES BIOMAX IN ITS PUBLICATION

As a direct result of the dialog the symposium generated, two featured articles appeared in Scientific Computer World.

The first, "Treating the individual with the knowledge of all" provides an overview of how knowledge management integrates data to make predictive medicine a reality.

The second, "Can informatics turn data into medical treatment?" explores the multidisciplinary nature of personalized medicine and how knowledge provided as a service can help practitioners make significantly improved decisions.

The digital edition of the magazine is free worldwide.

DELIVERING OPERATIONAL EXCELLENCE THROUGH KNOWLEDGE MANAGEMENT

Biomax witnessed a dynamic 2014 starting with a significant expansion of projects, both public and private in the area of systems medicine, and including the opening of our US facility in Wisconsin. In October, we released version 5.1 of the BioXM™ Knowledge Management Environment, a flexible and customizable platform that stands alone in applying semantic integration to computational solutions.

For transforming organizational data and information into knowledge assets that generate intelligent and strategic decisions, the BioXM platform is unique in its ability to deliver new dimensions in performance that sustain operational excellence over time.

If you need to do things differently in 2015, and you haven't looked at Biomax recently, then let's have that conversation and explore what new levels of operational excellence we can deliver to your organization.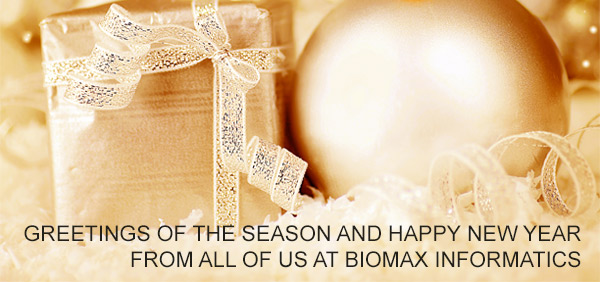 Biomax Informatics AG
Robert-Koch Str. 2
D-82152 Planegg
Germany
+49 89 895574-0 (Germany)
+44 7832 965 326 (United Kingdom)
+1 608 636 2222 (Americas and Japan)


Biomax, BioXM and PEDANT are registered trademarks of Biomax Informatics AG in Germany and other countries.
Biomax Informatics AG
Registered Office (Sitz der Gesellschaft): Planegg, Germany
Court of Registration (Registergericht): AG München, HRB 134442
CEO (Vorstandsvorsitzender): Dr. Klaus Heumann
Chairman of the Supervisory Board (Vorsitzender des Aufsichtsrats): Prof. Dr. Hans-Werner Mewes

Unsubscribe